Yes… in the shuffle this week with the "spammers" on my website – I lost so much information (better to loose it than to have to look at "P.O.R.N" links!!! – I told you that it was UGLY
This one looks VERY CLOSE!!     http://www.thefreshloaf.com/recipes/pitabread
Pita Bread
Makes 8 pitas
3 cups flour
1 1/2 teaspoons salt
1 Tablespoon sugar or honey
1 packet yeast (or, if from bulk, 2 teaspoons yeast)
1 1/4 to 1 1/2 cups water, roughly at room temperature
2 tablespoons olive oil, vegetable oil, butter, or shortening
If you are using active dry yeast, follow the instructions on the packet to active it (see the note on yeast above). Otherwise, mix the yeast in with the flour, salt, and sugar. Add the olive oil and 1 1/4 cup water and stir together with a wooden spoon. All of the ingredients should form a ball. If some of the flour will not stick to the ball, add more water (I had to add an extra 1/4 cup).
Once all of the ingredients form a ball, place the ball on a work surface, such as a cutting board, and knead the dough for approximately 10 minutes (or until your hands get tired). If you are using an electric mixer, mix it at low speed for 10 minutes.
(The purpose of kneading is to thoroughly combine the ingredients and to break down the flour so that the dough will become stretchy and elastic and rise well in the oven. A simple hand kneading technique is to firmly press down on the dough with the palm of your hand, fold the dough in half toward you like you are closing an envelope, rotate the dough 90 degrees and then repeat these steps, but whatever technique you are comfortable using should work.)
When you are done kneading the dough, place it in a bowl that has been lightly coated with oil. I use canola spray oil, but you can also just pour a teaspoon of oil into the bowl and rub it around with your fingers. Form a ball out of the dough and place it into the bowl, rolling the ball of dough around in the bowl so that it has a light coat of oil on all sides. Cover the bowl with plastic wrap or a damp kitchen towel and set aside to rise until it has doubled in size, approximately 90 minutes.
When it has doubled in size, punch the dough down to release some of the trapped gases and divide it into 8 pieces. Roll each piece into a ball, cover the balls with a damp kitchen towel, and let them rest for 20 minutes. This step allows the dough to relax so that it'll be easier to shape.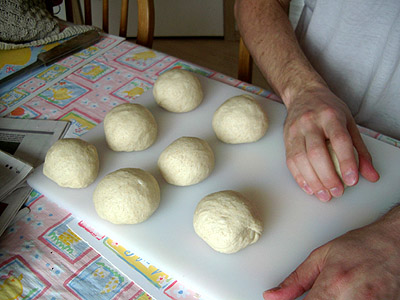 While the dough is resting, preheat the oven to 400 degrees. If you have a baking stone, put it in the oven to preheat as well. If you do not have a baking stone, turn a cookie sheet upside down and place it on the middle rack of the oven while you are preheating the oven. This will be the surface on which you bake your pitas.
After the dough has relaxed for 20 minutes, spread a light coating of flour on a work surface and place one of the balls of dough there. Sprinkle a little bit of flour on top of the dough and use a rolling pin or your hands to stretch and flatten the dough. You should be able to roll it out to between 1/8 and 1/4 inch thick. If the dough does not stretch sufficiently you can cover it with the damp towel and let it rest 5 to 10 minutes before trying again.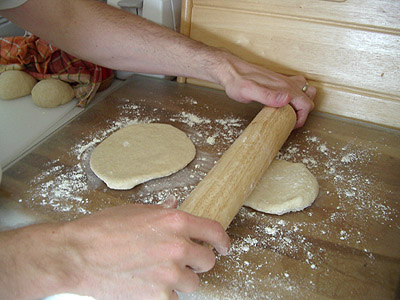 If you have a spray bottle in the kitchen, spray a light mist of water onto your baking surface and close the oven for 30 seconds. Supposedly this step reduces the blistering on the outside of your pitas. I've skipped it many times in the past and still been pleased with my breads, so if you don't have a bottle handy it isn't a big deal.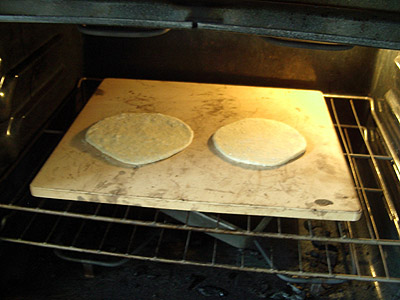 Open the oven and place as many pitas as you can fit on the hot baking surface. They should be baked through and puffy after 3 minutes. If you want your pitas to be crispy and brown you can bake them for an additional 3 to 5 minutes, but it isn't necessary (in the batch pictured here I removed them at 3 minutes).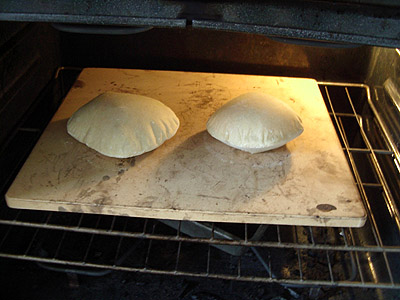 That's it. They should keep pretty well, but we almost always eat them as soon as they come out of the oven.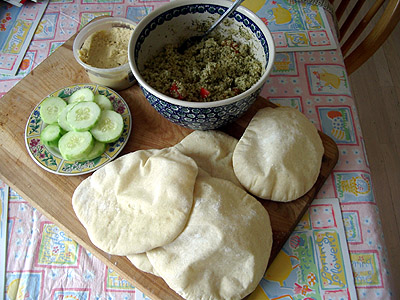 Yum!
If you have any tips on baking pitas or have a recipe you'd like to share, please add a comment below.
Thank you for visiting KrisandLarry.com - We are a homschooling, homesteading family from Arizona.
If you are looking for the FREE Digital Scrapbooking Section,
Click Here
We try to stay to a schedule on our website, but that doesn't always happen 😉
Sundays: Bible Study -:- Mondays: Meals and blog hop hosting -:- Tuesdays: Freeze-dry and Summer Crafts with Kids -:- Wednesdays: Digital Scrapbook Freebie, Crafts/Decor -:- Thursdays: Throwback Recipes from the past -:- Fridays: Homeschool/homestead and all about our family -:- Saturdays: Desserts and Tasty Treats
---------------------------------------------------------------------------

---
The Almighty is beyond our reach and exalted in power; in his justice and great righteousness, he does not oppress.



This blog post is shared on You're the Star Blog Hop, Friendship Friday, Simple Homestead Blog Hop, Homestead Blog Hop, Tuesdays with a Twist, The Farm Fresh Blog Hop Wonderful Wednesday